Real Estate Board Continuing Education "Carryover" Process
Real Estate Licensees who have completed all of their required Continuing Education (CE) credit hours--16 for a Salesperson and 24 for a Broker--in the previous licensure term, and who have completed extra credit hours in the last six months of that same licensure period, may qualify to "carry over" extra CE credit hours and apply them to their current licensure period. 
The image below shows the methodology for determining if a licensee has carryover credit.
---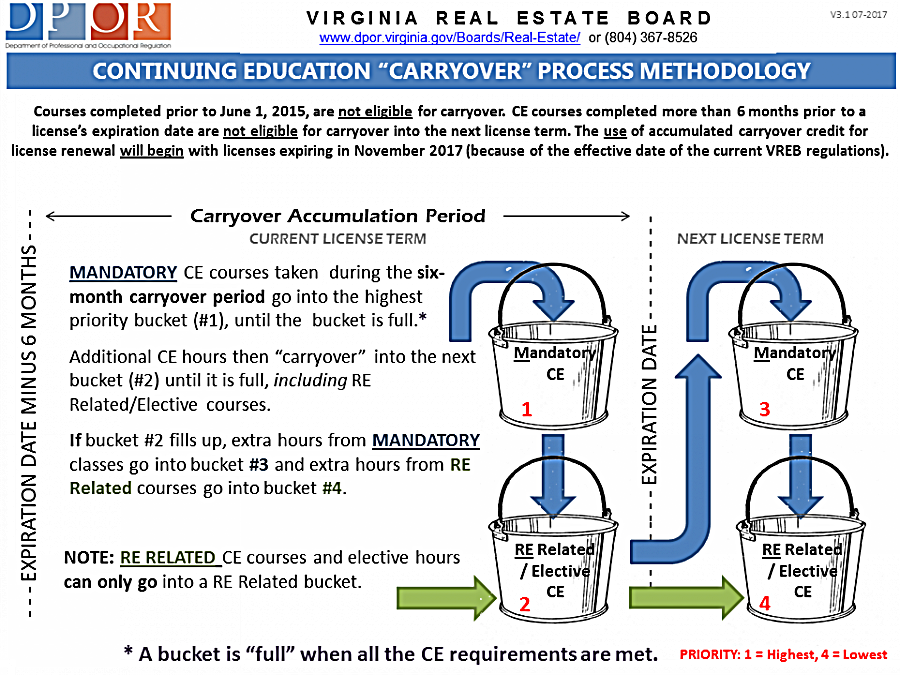 ---
If you believe you have extra CE credit that qualifies to carry over into your current license period and wish to receive approval for it, complete the Continuing Education (CE) Course Worksheet. Submit the worksheet and copies of your course completion certificates to the Board by e-mail, FAX (866-826-8863), or mail. 
CONTINUING EDUCATION (CE) COURSE WORKSHEET:     
Interactive PDF Worksheet | Static PDF Worksheet 
Once staff reviews the worksheet and evaluates whether you have CE that qualifies for carryover, the eligible credits will be entered into the licensing system and then show up on License Lookup.  
All licensees who submit a worksheet will receive a letter indicating if he or she has carryover CE, no matter the eligible amount. 
---
Process for Reviewing Carryover
Renew your license (on time!)
Fill out the CE Course Worksheet (Interactive PDF or Static PDF) and submit it with course completion certificates (copies are fine).
Staff will review your worksheet to evaluate whether your CE is eligible to carry over into your current license period. You will receive a letter with the results of the staff review.
If you do have eligible carryover CE, it will show up on License Lookup within two business days of the staff review.